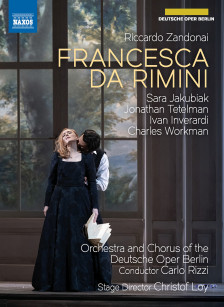 The Süddeutsche Zeitung praised the live stream of the opera FRANCESCA DA RIMINI from the Deutsche Oper Berlin as "perhaps the best stream premiere" since the beginning of the Corona pandemic. The premiere of this rarely performed masterpiece by Riccardo Zandonai had to be staged on 14 March 2021 without physically present visitors. The livestream, which nevertheless allowed the audience to participate in this new production, was part of a DVD production that had been planned for some time by the Deutsche Oper Berlin and the producer Naxos. In addition to the live-streamed premiere, another performance and the dress rehearsal were recorded to optimise the DVD recording.

Director Christof Loy, set designer Johannes Leiacker and Sara Jakubiak, who sang the title character of Francesca, had already been at the centre of Erich Wolfgang Korngold's opera DAS WUNDER DER HELIANE, which had been recorded three years earlier as the first joint DVD project of Deutsche Oper Berlin and Naxos. Other participants in the production of FRANCESCA DA RIMINI included conductor Carlo Rizzi, soloists Jonathan Tetelman, Ivan Inverardi and Charles Workman, and the orchestra and chorus of Deutsche Oper Berlin.

The DVDs and Blu rays of FRANCESCA DA RIMINI are expected to be available in spring 2022 as the fourth joint DVD production of Deutsche Oper Berlin with Naxos after DAS WUNDER DER HELIANE, DER ZWERG and HEART CHAMBER.