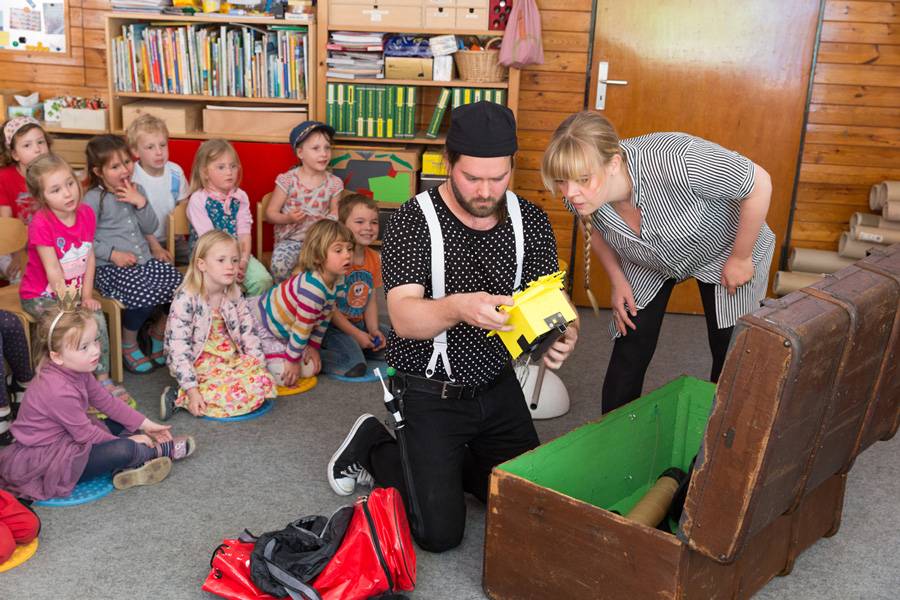 Mobiles Musiktheater: Kuckuck im Koffer © Stephan Bögel
A Cuckoo In My Suitcase (3 – 6)
Mobile musical theatre for kindergarten and primary school - by Matthias Kaul
A work commissioned by Young Opera.
Musical direction and instrument manufacture: Matthias Kaul; Stage direction: Maria-Magdalena Kwaschik; Costumes: Anja Wendler
With Gina May Walter / Bini Lee; Magnús Hallur Jónsson / Martin Gerke
A meeting between two very different people. Both are on a journey and happen to be stranded in a kindergarten/school. Their few belongings fit into a suitcase, practical and impractical things that mean a lot to them and which they've accumulated on the road - a Gopichand (an Indian stringed instrument), electric toothbrushes, a clothes brush, three table spoons, etc. And as it turns out, they can make music using their own voices, the two suitcases and their contents. The whisk does service as a fiddle, a suitcase becomes a double bass and the spoons produce a sound akin to a glockenspiel. But there's a snag: the two travellers speak different languages and are very different in other ways too, so conflict and friction is inevitable. But by means of sounds and gestures the two individuals manage to make themselves understood, tell their respective stories and the tales of the items in their luggage and along with the children in the audience discover the acoustic world of the other person…
The world of musical theatre captivates people from a very early age. Young children love to follow and participate in the play of colour and transformation, sounds and movement. Presented with a continuous interplay of action and observation, activity and calm, sound and silence, they can concentrate for a sustained period of time and immerse themselves in a stage experience. With this in mind the Young Opera section launched a new programme in 2015: A CUCKOO IN MY SUITCASE is a travelling production that tours kindergartens and schools, playing to kids aged 3 to 6. Composer Matthias Kaul and director Maria-Magdalena Kwaschik have come up with a musical play for two actor-singers, a play that we stage in a fresh version at every new venue.
4– 8, 11, 26, 27, 29 March
1– 3, 8, 9, 11, 12 April 2019 [mobil]